Export panel
Once you are finished with your drone show, use the Export panel to export it from Blender to different formats for further processing or direct upload to the drones.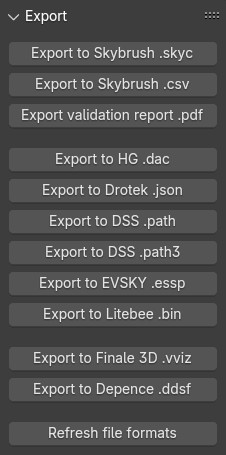 Export to .skyc
The Skybrush compiled show format is a single-file descriptor of your complete drone show. It is used as the primary drone show format throughout the entire Skybrush suite:
If you wish to visualize or verify your show or you simply want to send a link with an interactive 3D visualization of the show to your clients, use Skybrush Viewer.

If you want to execute your drone show on your real drones, use Skybrush Live.
If you press the Export to .skyc button, you have to choose the path and filename of your output file. There are also some parameters you can setup conveniently:
Export selected drones only

Export all or only selected drones

Frame range

Define the frame range of the output (Storyboard / Render / Preview / Current formation or transition)

Trajectory FPS

Set output frame rate for drone trajectories (make sure it is a submultiple of your render FPS)

Light FPS

Set the output frame rate for light programs (make sure it is a submultiple of your render FPS)
Export to .csv
The trajectories and LED light colors of the drones can also be sampled at regular intervals and exported to CSV files for further post-processing in external tools. This option appears only if you have installed and enabled the CSV export addon that is distributed separately. The CSV export will produce a single ZIP file that contains multiple CSV files, one for each drone, with the following columns: time (milliseconds), X, Y and Z coordinates (meters) and the red, green and blue components of the color of the LED light, in the usual 0-255 range.
| | |
| --- | --- |
| | We recommend using Skybrush Live for drone show control, together with the official Skybrush Compiled Format (.skyc), as it contains a lot more information about your show in a more optimized way than this simple CSV representation. |
If you press the Export to .skyc button, you have to choose the path and filename of your output file. There are also some parameters you can setup conveniently:
Export selected drones only

Export all or only selected drones

Frame range

Define the frame range of the output (Storyboard / Render / Preview / Current formation or transition)

Frame rate

Set output frame rate of drone trajectories and light programs (make sure it is a submultiple of your render FPS)
| | |
| --- | --- |
| | Special characters in drone names are converted to standard characters in the exported filenames. |