Light Control
The Light control panel lets you override the default coloring scheme of all drones with the selected single color.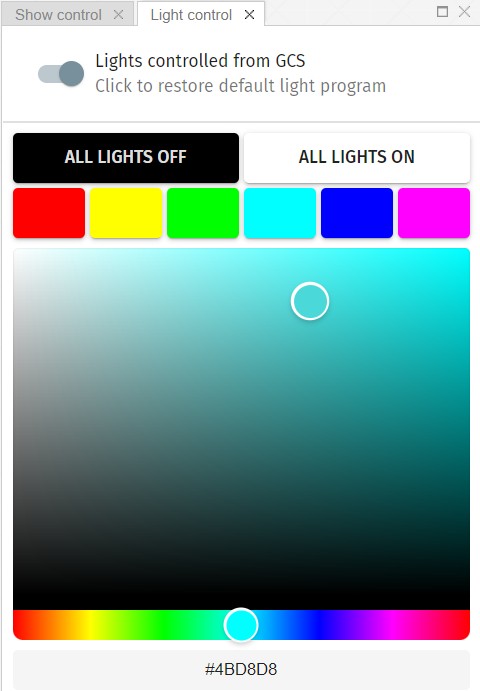 The switch at the top specifies whether the color override mode is enabled or not. If you enable GCS color override, the color selected at the bottom part of the panel will be broadcast to all drones. If the GCS color override is disabled, the coloring of the drone will return to the default scheme (see Light Status Codes for more details on the default coloring scheme).
The color override functionality is useful in the following cases:
switching off takeoff lights before a show

testing wifi connection with far away drones

creating unicolor fleet-level lighting for any reason, any time, during a show or on the ground
The unicolor buttons define some standard colors. The color chart below lets you tune your color in a HSV color space. Select the hue value at the bottom and set saturation and value in the big gradient field in the middle.
The selected color is also specified as an RGB hexadecimal value. You can change that value at the bottom of the light control panel.
| | |
| --- | --- |
| | If a drone does not receive color messages from the GCS for more than 30 seconds (e.g., if wifi connection is broken), it switches back to its default coloring scheme automatically. |